Some Thoughts…
By Michael Castro
I like to carry a brick around wherever I go so every window is an emergency exit.
I once owned this very cocky, dyslexic dog…he thought he was god.
I was walking through the desert and I thought I saw a mirage, but it was a figment of my imagination.
I'm fluent in French, but I only speak in subtitles.
Some people say "life" is too short, even though "death" only has one more letter.
Ambition is putting a ladder against the sky… greed is kicking that ladder down after you get to the top.
When I was a doctor, I practiced malpractice.
Sometimes I paint my entire body in whiteout, so if I make a mistake people look right over me.
I wanted to know the meaning of life…so I looked it up.
When I was a child, my mother had to work to put the food on the table…but we didn't have a very big table, so she didn't have to work very hard.
I imagine before the invention of showers, when someone said, "You smell nice"…it really wouldn't mean much.
I think a funny thing to do would be to go back in time and convince the inventor of the washing machine that his idea is stupid and he should consider retirement. Then when he gives up, take his idea and rename it "The Litter Box." Cats would be all confused, and it would teach them to hold it in.
I was fired from waiting tables because I waited too long.
The other day this cop gave me fantastic tickets for a band called "Speeding." I hear they really push the limit.
When I was a child, I offered candy to strangers.
If you put your money where your mouth is…I wouldn't take it.
I was taking a walk across London Bridge…and it fell down. I was all right, but the guy who wrote that song is being questioned by authorities.
I used to work at Carnegie Hall, but only for one show. I was fired because I accidentally replaced the main stage lights with the clapper. End of the show…standing ovation…people thought it was the end of the world.
Where's Waldo?
---- The re-imagining ----
Coming soon in 2010
Synopsis:
In the height of America's "War on Terror" the U.S. Government discover that Osama Bin Laden was only a puppet in a greater plot against the American people. Heading this master plan is a smarter, quicker, and more vindictive terrorist leader who goes by one name: "Waldo". With no leads as to Waldo's whereabouts, the Government grows desperate and turns to their last resort... Odlaw, a bounty hunter who plays by his own rules. Having tangoed with Waldo before, Odlaw stole his dog 'Woof', and together they scour the Middle East for the source of all terrorism on American soil... WALDO.
Will Odlaw reach Waldo before he finds the "Keeper of Black Magic" Wizard Whitebeard? Only time will tell...
But for now everyone is begging the question:
"WHERE'S WALDO??!!"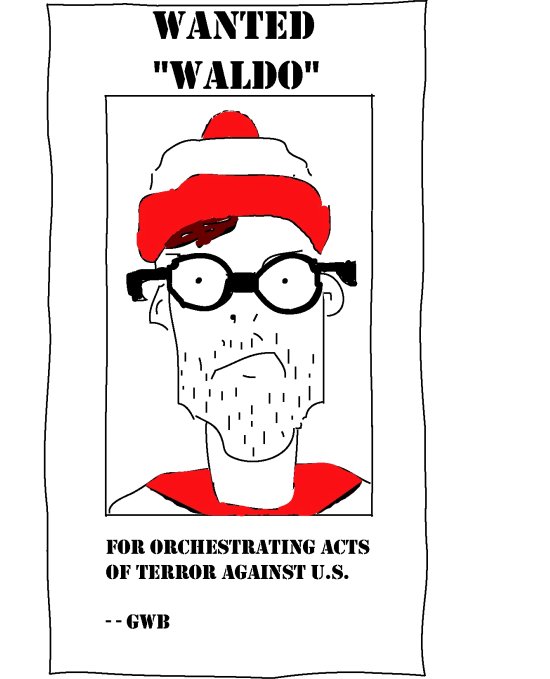 "The man who got away"

sample draft

by michael castro
EXT. WALLINGFORD TOWN CENTER - NIGHT
A man, seemingly of no importance, hunched over in a navy blue hooded sweatshirt walks a long stretch of sidewalk in town. He clutches tightly in his grip a red backpack which he holds over his right shoulder. His feet cautiously maneuver the sidewalk at first, until he grows increasingly paranoid and begins to walk quicker as if he's trying to escape.
Now he is in a full-out sprint as he's apparently caught a glimpse of his attacker.
Adding more depth to the chase, shadows and flashes of headlights pass behind the running man.
The chase concludes down a dark alley-way where this man has nowhere left to hide.
A black car blocks the entrance of the alleyway and three men step out. They appear only as silhouettes against the scattered illumination of streetlights.
More is revealed of the mystery men, they each appear to be dressed in business suits and sunglasses. As the man who had been driving shuts his car door he bears a slight grin--
MAN 1
(to running man)
Mr. Resnikoff...
Resnikoff sees his assailants standing at the opposite end of the alleyway.
MAN 1 (CONT'D)
You appear to be lost...
Resnikoff examines every corner of the dead end desperate for survival. Out of the corner of his eye he sees an old rusty door.
MAN 1 (CONT'D)
I hope you do realize that there is no...
Resnikoff makes a break for the door, slips inside and lets it SLAM behind him.
MAN 1 (CONT'D)
... Escape.
Off the SLAM of the door we--
CUT TO:
INT. AVONNA TELEMARKETING AGENCY - DAY - TWO HOURS EARLIER
QUINN HOWARD dozes in and out of sleep at his telemarketing booth. Quinn Howard is an average looking man who doesn't care much to stand out from the rest. He's of medium height and medium build. In his eyes you can see an innocence that has witnessed many years of disappointment. Just as Quinn is about to fall into a deep sleep--
SUPERVISOR
Break time's over, start dialing. Break's over, people.
Quinn snaps out of his cat nap and takes a moment to wake up. He looks to his headset that was left on his computer's keyboard. An exchange of glances between Quinn and his headset give the impression that the headset is daring him.
Quinn slowly reaches for the headset, and the moment he places it on his head--
A quick flashing jump cut montage erupts as if the headset took Quinn into a worm hole of telemarketing calls.
CUSTOMER 1
No!
CUSTOMER 2
Who is this?!
CUSTOMER 3
How'd you get this number?!
CUSTOMER 4
Go fuck yourself!
CUSTOMER 5
Kiss my big fat hairy--
Quinn hangs up his last call and removes the headset which takes him out of the maddening worm hole. He's out of breath from the trip.
The Supervisor passes by in the background...
Supervisor
Log out and hang up your head sets people...
Quinn takes a short victorious moment to appreciate finishing his shift.
SUPERVISOR (CONT'D)
... And I'll see you all tomorrow.
Quinn drops his head as the moment passes.
INT. QUINN'S CAR - NIGHT
Quinn drives home from work. His blank and lifeless stare into the night indicates this drive to be a part of his monotonous daily routine. He smiles as he sees something coming up in the distance...
EXT. QUINN'S CAR - NIGHT
A McDonald's giant "M" logo is revealed as he gets closer.
Quinn
The North Star...
EXT. Quinn's car - night
Quinn pulls up to the McDonald's intercom.
Mcdonald's worker
Can I take your order?
QuiNN
Yes, I will have a "two" and a "six" thank you. So I'll have eight.
Quinn laughs to himself half-wishing someone were there to hear his spontaneous quip... Until he realizes that they've charged him for the "two" "six" and "eight".
QUINN (CONT'D)
No- no... just the "two" and "six". Just "two" and "six".
INT. QUINN'S APARTMENT - NIGHT
Quinn enters his apartment exhausted from the long day at work. He drops his keys and back pack on the kitchen table. His roommate CODY ADAMS lies comatose on their couch playing video games in front of the TV.
QUINN
Jesus, Cody, have you moved since I left?
CODY
Yep.
QUINN
Off the couch?
CODY
Nope.
QUINN
You're disgusting, I'm working all day so we can pay bills and make rent... And you vegge out playing Tekken 4 all day...
CODY
Five.
Quinn goes in the fridge to get some milk.
QUINN
... And while we're on bills, did you finally get around to paying the electric bill? It was due Wednesday...
The milk carton is empty.
QUINN (CONT'D)
You finished the milk?!
CODY
Yep.
QUINN
"Yep" to which?
CODY
Both.
QUINN
Okay good.
He goes to pour himself a glass of milk forgetting that it was empty--
He's reminded when nothing comes out...
QUINN (CONT'D)
Gah!
Quinn tosses the carton away in frustration. He takes a deep sigh and retrieves his keys and backpack from the kitchen table.
QUINN (CONT'D)
I'm meeting Joel and Lisa at the Shamrock, wanna come?
CODY
Nope.
QUINN
You sure?
CODY
Yep.
QUINN
Alright, I'll be back late... Remember to shut off the lights before you go to sleep.
Quinn exits his apartment door.
Cody is left with his video games. After a few beats the electricity shuts off in the apartment.
CODY
Alright.
EXT./INT. THE SHAMROCK PUB - NIGHT
Quinn sits across the booth from JOEL KLEIN and LISA ROGERS. Joel is a good looking man, brimming with confidence. Lisa is a petite blonde who is very pretty, but determined to prove her intelligence over the blonde stereotypes. Joel and Lisa have been going out for the past year and things couldn't be going better for them.
JOEL
And when we peered over the clearing there were three lights, all of equal distance from each other, a perfect triangle...
QUINN
(Pretending like he cares)
What ever do you think it was, Joel?
JOEL
They were waiting. Like a rescue ship... Picking up their reconnaissance team left on earth.
Quinn scoffs and Lisa laughs.
QUINN
Oh will ya' listen to him...
JOEL
And then they sped off... Another flicker in the night sky.
LISA
You're such a doof, you know that?
JOEL
Believe what you will, but it's your blind skepticism that hides the truth from an unsuspecting public.
LISA
So the government's hiding a secret alien invasion from us, the "lowly" public?
JOEL
You said it, I didn't.
LISA
I only said it 'cause you made me!
JOEL
Uh huh, is that right?
LISA
Oh, don't give me that face...
JOEL
What face?
LISA
That one. You're making it right now!
JOEL
Oh this one?
LISA
You're so mean to me-- Isn't he mean to me, Quinn?
QUINN
Clearly.
LISA
I need another drink... Honey, you want anything?
JOEL
Blue moon on tap.
LISA
Quinn?
QUINN
No thanks, I'm good for now.
LISA
Alright, one blue moon coming up.
Lisa makes her way to the bar.
QUINN
I want that.
JOEL
She just asked what you wanted--
QUINN
No, not that. That. You and Lisa... The closeness, the connection.
JOEL
Come on, you'll get... That.
QUINN
Nah...
JOEL
No, you will, man! You're a great guy, any woman would be lucky to have you--
QUINN
Just stop it...
JOEL
What?
QUINN
Blah blah hang in there, blah blah blow me.
Quinn takes a swig of his drink.
QUINN (CONT'D)
What I really want to know is if I'm such a great guy then why is it not one girl has noticed? Why is it I still sit here alone?
Quinn leaves Joel with the question and then returns to his drink.
JOEL
Maybe you're still alone... Because you don't reach out...
QUINN
Oh come off it--
JOEL
Well, when have you really made an effort to connect with a girl? I hear you complain that girls don't notice you, but... Do you ever try to let them notice you?
Quinn looks away.
JOEL (CONT'D)
Noelle. The bartender. How many times have we come in here and you told me just how cute you think she is...
Quinn gazes towards NOELLE HARPER who is busy with the late rush of customers.
JOEL (CONT'D)
And now how many times have you tried talking to her?
QUINN
I can't bother her... She's working.
JOEL
Have you ever heard of good things happening to a man who made excuses? You're twenty-five, the prime of your life... If you died tomorrow do you want people saying, "He died alone, the only thing going for him: his career in telemarketing"?
QUINN
Hey! I'm not a telemarketer. It's a transitional job.
JOEL
You're young... Make something of it!
Lisa arrives with the drinks.
LISA
Here you go. So what you boys been talkin' about?
JOEL
Sports.
TIM
Sports.
QUINN
I'm gonna get out of here.
JOEL
What?
LISA
Oh, come on!
QUINN
No really, I'll see you guys tomorrow.
LISA
Alright.
JOEL
Remember what I said... About sports.
Quinn grabs his red backpack and throws it over his shoulder. As he's leaving he gets distracted by the sight of Noelle at the bar. Deciding to go for it, he takes a moment to collect himself and then makes his way to an empty seat at the corner of the bar.
Noelle is mixing a drink behind the counter. Just as she finishes making the drink she notices Quinn.
NOELLE
Quinn, hey, what can I get you?
QUINN
Oh nothing, I'm fine. Actually, I just was wonderin-- blue moon, blue moon on tap?
Noelle starts to fill his drink.
QUINN (CONT'D)
So, Noelle, how's the night treating you?
NOELLE
Good, pretty good. Busy.
QUINN
Yeah. Yeah, it looks it.
NOELLE
You still working at that, uh... Telemarketing job?
QUINN
No. I mean yes... but, it's transitional.
Noelle hands him his drink.
NOELLE
Oh okay. Anything else I can get for you?
Quinn reaches for his wallet and then hesitates for a moment--
QUINN
Well, actually yeah, um, y'know I-I was thinkin' maybe if you were up for it-- maybe we could try and...
Suddenly, bolting through the back of the bar is Mr. Resnikoff. He CRASHES into Quinn who is seated at the corner of the bar.
Both Quinn and Resnikoff take a spill in front of the bar. In a rush to gather his belongings Resnikoff picks up the first red bag he sees and then takes off out the main bar entrance.
Quinn remains on the floor. A hand extends down to help him up. When he is pulled to his feet Quinn sees that the helping hand belongs to a grim looking man in a pair of shades and business suit.
In hot pursuit of Mr. Resnikoff a few business suit men run behind the man helping Quinn.
MAN 1
Are you alright?
QUINN
(Disoriented)
Yeah. Yeah, I'm fine...
Noelle leaves the bar area to be at Quinn's side.
NOELLE
Hey! What the hell's going on?!
MAN 1
Nothing of importance. I apologize for the inconvenience.
Man 1 follows his associates out the main bar entrance.
NOELLE
What in god's name do you think that was?
QUINN
(Still stunned from the skirmish)
Probably nothing of importance.
NOELLE
Oh... Quinn, you were saying something before?
QUINN
Uh, no, no. Just...
Quinn throws the red backpack over his shoulder again, and hands Noelle a few dollars from his wallet.
QUINN (CONT'D)
Thanks for the drink.
Quinn painfully walks away sipping what's left of his missed opportunity. He mutters through his teeth--
QUINN (CONT'D)
Oh, she thinks you're an idiot... She really really does. You are just a big stupid--
Quinn SLAMS his drink down at the nearest table.
Off the SLAM we--
CUT TO:
EXT. ALLEYWAY - NIGHT
Resnikoff is SLAMMED into a brick wall of an alley way.
MAN 2
--piece of shit!
Man 2 throws a punch right across Resnikoff's face. Man 1 approaches from behind Man 2.
MAN 1
Agent Dogan, enough. Violence is not necessary...
Man 1 picks up Resnikoff's red backpack.
MAN 1 (CONT'D)
... Yet. Mr. Resnikoff, we expect your full cooperation and nothing less. Agent Dogan and Agent Kelly will escort you to the car.
Both agents pick Resnikoff up by each shoulder and take him away.
Man 1 takes a moment to observe his surroundings. Out of the corner of his eye he notices the shadow of a man walking by the alleyway smoking a cigarette. At a distance both men exchange glances, almost like two old foes acknowledging the other's presence.
The CIGARETTE SMOKING MAN puts out his cigarette and continues on his way.
Off Man 1's evil glare--
INT. QUINN'S APARTMENT - NIGHT
Quinn arrives home from his night at the bar. He flips on the light switch and finds nothing happens.
QUINN
Fucking Cody...
INT. QUINN'S ROOM - NIGHT
Quinn drops his bag on the floor and sits motionless in his bed. He sees that his alarm clock isn't working since the electricity went out. He then pulls out his cell phone and presses a few buttons setting an alarm.
The moment his head drops to the pillow--
INT. QUINN'S ROOM - DAY
-- His cell phone frantically BEEPS and the room instantly grows brighter.
QUINN
Shit.
Quinn's head shoots back up from the pillow and he is up for the day.
INT. QUINN'S KITCHEN - DAY
Quinn grabs a box of Cheerios on top of his refrigerator.
He places down the bowl and cereal box on the table. He's content and ready to start his day when he notices something O.S.
INT. GOVERNMENT HEADQUARTERS - DAY
AGENT KELLY exits the interrogation room as he notices Man 1 walking by in the hallway. He catches up to his pace.
KELLY
Agent Wilkins, he keeps insisting that the bag is not his...
WILKINS
I am your superior, Agent Kelly.
KELLY
Yes, Sir.
They walk for a few beats.
KELLY (CONT'D)
Sir?
WILKINS
Yes?
KELLY
He keeps insisting that the bag is not his.
WILKINS
Well of course he would.
KELLY
But we still can't find the device. I don't think it's in there...
WILKINS
You don't think? We've torn apart every nook and cranny he could possibly conceive of hiding in. We know for a fact that the device was in his possession.
KELLY
Sir, we've searched every inch of that bag.
WILKINS
And what exactly did you find?
CUT TO:
INT. QUINN'S APARTMENT - DAY
Quinn stands outside of the locked door to Cody's bedroom holding his red bag.
QUINN
Cody, Cody... Have you seen my comic books?
No answer.
QUINN (CONT'D)
Cody, I need to go to work and they're not in my bag... I need something to read at break.
CODY (O.S.)
Dunno.
QUINN
Then, where are they? I had them right in my-- God dammit... Well I'm going now. If at any point in the day you see them... You could... Just leave them out for me. Out on the table. That'd be great. Alright. Okay. Thanks.
Quinn walks off screen. After a few beats he walks back on screen.
QUINN (CONT'D)
Actually I don't know if I'd really check the table when I get back... So maybe you could leave them in my room. Like try the bed. Just, you know, lay 'em out on the comforter... As you like. Alright, I'm off.
Quinn walks off screen again.
QUINN (O.S.) (CONT'D)
Are you awake?
EXT./INT. QUINN'S CAR - DAY
Quinn drives his car through town on his way to work. He momentarily glances toward his back pack which is sitting in the passenger's seat and turns his attention back towards the road. Quinn then makes a realization that wakes him out of his droned state--
Quinn quickly snatches the back pack from the passenger seat.
INT. THE SHAMROCK PUB - DAY
Quinn enters the pub with the back pack in hand. There are no customers or staff around the bar area. The pub seems to be empty.
QUINN
Hello? Hello? Anybody home?
Quinn walks up to the bar and looks around. He turns around and leans his back against the counter taking a deep sigh.
A figure rises from behind the counter.
BAR OWNER
Hello.
Quinn is scared stupid and nearly falls over.
QUINN
Gah! Oh my god, I'm sorry, I'm sorry... I just didn't- I didn't see you there.
BAR OWNER
Are you alright?
QUINN
(Out of breath)
No, I'm fine...
BAR OWNER
You look tense.
QUINN
No, I'm not... I'm just...
Quinn gives up trying to explain and holds up the red back pack.
QUINN (CONT'D)
... This isn't mine.
BAR OWNER
It isn't mine.
QUINN
Alright... Well, last night, I came in here, and there was a man... Ran right into me, and you see we both dropped our bags. And what I think happened is I have his bag... And he in turn... Has mine.
BAR OWNER
So that's not yours?
QUINN
This isn't mine.
The bar owner looks Quinn over for a moment as if he's debating whether or not he should trust him.
BAR OWNER
Alright, well you can leave it here if you like and if this man runs in again I'll be sure to pass it along.
QUINN
Okay. Okay, that's all good and fun, but I... in turn... Would like my bag back as well. So...
Quinn takes a pen from his pocket and starts writing on a napkin.
QUINN (CONT'D)
Here's my contact information. And if you see the guy you can let him know this is how he can reach me...
Quinn looks up from writing.
QUINN (CONT'D)
... Alright?
The bar owner is no where to be found.
Quinn looks over the bar counter. He spots the bar owner hiding underneath.
BAR OWNER
(From under counter)
Alright.
EXT. GOVERNMENT CAR - DAY
Agents Dogan, Kelly, and Wilkins enter the car and SLAM their doors. Kelly is driving, Dogan in the passenger seat, and Wilkins in the back examining the bag.
INT. GOVERNMENT CAR - DAY
WILKINS
How could there have been a switch?
KELLY
I don't know, sir...
WILKINS
Excuse me?
KELLY
We followed him pretty close...
DOGAN
Nailed him in that alley.
KELLY
Barely had a chance to breathe.
WILKINS
Well, obviously, there was a lapse of time where he could breathe, Agent Kelly... and that's where he made his move.
KELLY
He still denies making a switch.
DOGAN
Even after a little motivation...
Dogan pulls out a knife from his pocket with dried blood on the blade.
WILKINS
Enough. The device is out there... We need to find it.
The car runs over a bump in the road, lightly shuffling everyone in the car.
WILKINS (CONT'D)
It couldn't have gone far from where we...
Wilkins notices one of the comic books fall out of the backpack when they ran over the bump.
Wilkins' attention draws closer to the comic book and he picks it up.
WILKINS (CONT'D)
Agent Dogan, I want you to run a full background check on a "Quinn Howard" and patch what you find through to my computer.
DOGAN
Who's he?
WILKINS
You heard your orders. I think we found our man.
Wilkins' POV reveals a ripped mailing address on the cover of the comic book. Faintly visible is the name "Quint Howard"
WILKINS (CONT'D)
Just who are you, Quinn Howard?
CUT TO:
EXT. AVONNA TELEMARKETING AGENCY - DAY
INT. SUPERVISOR'S OFFICE - DAY
Quinn sits in the Supervisor's office as the Supervisor paces back and fourth in front of him.
SUPERVISOR
You're lazy, disorganized, without motivation, forgetful, constantly distracted...
QUINN
... What was the last one?
SUPERVISOR
... And you don't listen! Do you hear me now, Howard?
QUINN
I'm sorry. Is this an overall evaluation or just for today?
SUPERVISOR
Today's lateness makes three on your record...
QUINN
... Well, really that's not so bad.
SUPERVISOR
... Of the last three days. I'm giving you one last chance, Howard. We don't tolerate careless behavior. Here at the Avonna Telemarketing Agency we take pride in our employees and their work. It is pertinent to our image that when our customers hear our name they think, "Avonna:Friendly", "Avonna:Welcoming"... Not "Avonna:SHIT"!
QUINN
... What was the last one?
CUT TO:
INT. AVONNA TELEMARKETING BOOTH - DAY
Quinn falls into his seat and stares at his screen.
Just as earlier the headset begins to dare Quinn to put it on...
QUINN
Oh fuck off.
EXT. THE SHAMROCK PUB - NIGHT
A FLASH of lightning lights up the night sky. A thunderstorm erupts.
INT. THE SHAMROCK PUB - NIGHT
Noelle arrives for her night shift at the pub. Business appears to be slow so far.
NOELLE
Hello? Barry I'm here.
She puts her bag down on the bar counter.
NOELLE (CONT'D)
I'm sorry I'm late, I was trying to get out of the house but my brother called from Seattle and he really needed someone to talk to, I'm really sorry.
Noelle takes notice of Quinn's information carelessly left on the counter.
NOELLE (CONT'D)
Barry...
She picks up the napkin and turns around to speak in the bar owner's (Barry's) direction.
NOELLE (CONT'D)
What is--
Just as she turns around Barry appears right behind her. The shock startles Noelle.
NOELLE (CONT'D)
Oh!
Noelle collects herself.
NOELLE (CONT'D)
Um... What is this?
BARRY
A man stopped by earlier with a bag that wasn't his. Said to give it to the owner if they claim it.
NOELLE
Right, okay...
Barry leaves and Noelle puts the note under the counter. Curiosity strikes and she peers towards the bag as if it's drawing her closer.
On the sound of a thunder crack Noelle is interrupted by a BAR CUSTOMER; again she is startled. Only the back of his head is visible.
BAR CUSTOMER
Excuse me, may I use the telephone?
NOELLE
The telephone? Um, yes. Yes... there's a pay phone in the back just by the rest rooms...
BAR CUSTOMER
Thank you.
The man puts out a cigarette in the ash tray on the counter and then walks O.S.
Noelle looks back towards the bag.
Off Noelle's curiosity--